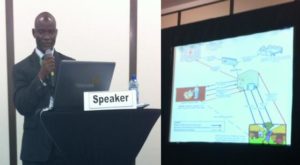 Catholic Relief Services (CRS) organized a conference in March 2013 in Accra, Ghana, in order to bring together stakeholders from different sectors to share their experiences utilizing mobile technologies to positively impact vulnerable communities.
JSI and the work of SC4CCM were represented by Amos Misomali, the Malawi Resident Logistics Advisor. Mr. Misomali participated in a panel discussion on supply chain management and the need to take a system-wide holistic supply chain picture, rather than the bits and pieces associated with logistics (commodity management, procurement, etc). The panel discussed how to advance this thinking and its supporting structure among themselves as practitioners and also other major stakeholders. During this panel, there was also a discussion on the potential to improve supply chain performance through harnessing improvements in ICT and looking at the advantages that ICT offer to supply chain practice.
Mr. Misomali shared practical examples of how JSI's cStock innovation in Malawi has changed the landscape of community-level supply chain management and significantly improved data visibility for this 'last mile' of the supply chain. He discussed how cStock has improved visibility of logistics data for different stakeholders at multiple levels and how such 'pioneer districts' have used improvements in data visibility to improve their performance. He said, "It was a great opportunity to share our experiences on how improved data visibility alone is not sufficient in itself, and why investments in improving performance of well-motivated district teams with a shared vision and clear performance targets around supply chain is a necessary component in unlocking full potential from advances in ICT."
Read more about cStock and SC4CCM's work in Malawi here.