The SC4CCM project's goal was to demonstrate that it is possible to overcome supply chain constraints at the lowest level of the supply chain that prevent effective community-based treatment of common diseases of childhood with affordable, simple, and sustainable supply chain solutions that address the unique challenges faced by CHWs. Throughout the five years of the project, SC4CCM has identified best practices and key findings related to community level supply chains, community case management, and scale up, institutionalization, and sustainability that are relevant to Ministries of Health, implementing partners, donors, and other relevant stakeholders.
Following the baseline assessments, SC4CCM developed a Theory of Change as the project's technical framework for planning and implementation and identified the five main preconditions that contributed to achieving the project's goal.  This then informed further learnings that the project identified as findings and best practices: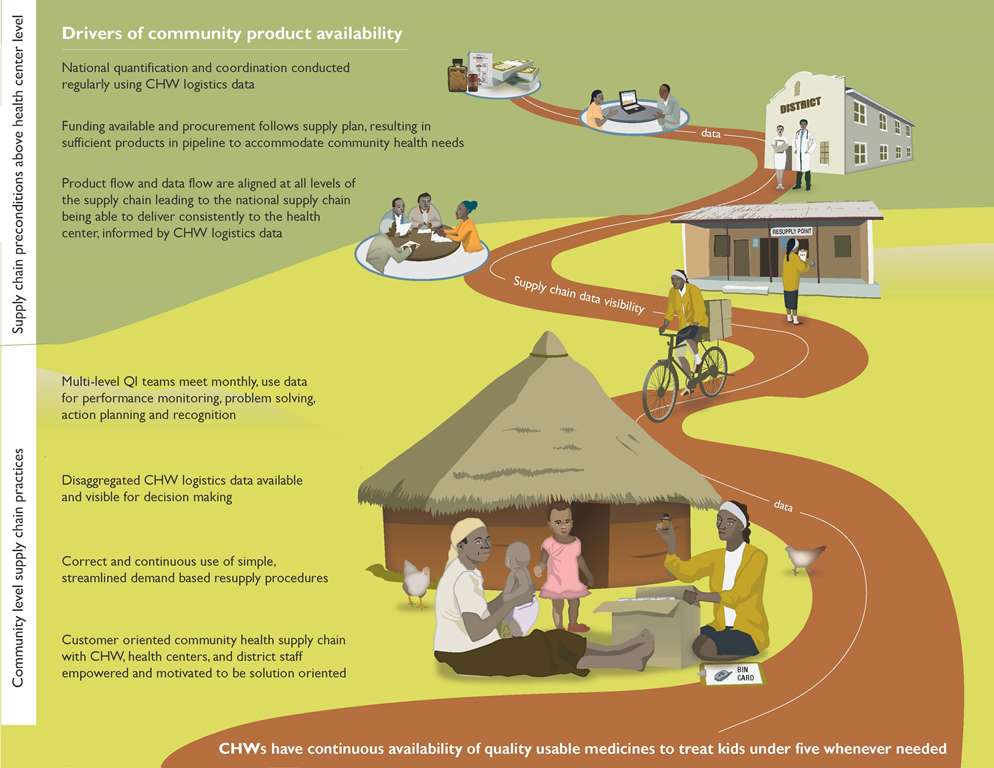 Selection of optimal products and routine quantification are critical first steps in ensuring that CHWs have the products they need to provide these life-saving services. SC4CCM developed resources to explain the importance of and provide technical details to complete a Quantification for iCCM.
Making Products Available in the Community: A Manager's Tool to Improving Community Health Supply Chains talks about three essential elements to making the supply chain function – product flow, data flow and effective people – and uses the SC4CCM experience to show how to make each of these elements work at the community level.
Simple, streamlined, demand-based resupply procedures (RSPs) for the community level, customized for the context, provide the basis for regular, functional and efficient resupply in the presence of community products. Read more about the Standard Resupply Procedures developed for the Rwanda context.
Multi-level quality-improvement (QI) teams can improve communication and coordination between staff at different levels, reinforce the correct and consistent use of resupply procedures and be used to monitor supply chain performance and help direct teams to take action to address supply chain problems and bottlenecks.
Visibility of appropriate and timely community logistics data at both health center and district levels is a prerequisite for managers and QI teams to regularly monitor the supply chain and respond in a timely and targeted way. Implementing an SMS and web-based mHealth system, where data are transformed into relevant, usable reports, can significantly improve timely, accurate availability and usability of community health logistics data at all levels of the supply chain.
Successfully navigating the pilot-to-practice journey to meet scale up and sustainability goals has been a challenge for many global health interventions. SC4CCM identified three stages and the approaches that worked on the project's journey to Scale, Institutionalization and Sustainability.
Read about SC4CCM's Lessons on Scale, Institutionalization and Sustainability
Read about SC4CCM's Findings on Strengthening Community-Level Supply Chains