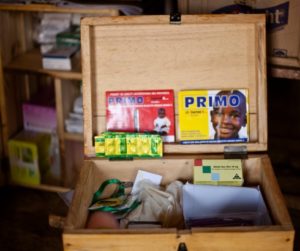 CCM in Rwanda Learn More
CCM, or community Integrated Management of Childhood Illnesses (c-IMCI) as its often called in Rwanda, is an important component of the community health policy. Of the 45,000 community-elected CHWs situated in 15,000 villages, 30,000 provide CCM to children under 5 in their Umudugudu or village. CHWs are volunteers and members of one of the 420 health cooperatives in the country that provide health services to communities and manage up to 7 commodities for CCM. CHWs are overseen by a cell coordinator (CC), an experienced CHW, who conducts supervision, collects logistics data, and resupplies CHWs with health products each month. 
SC4CCM and the Community Health Desk (CHD) of the Rwanda MOH are in the process of scaling up a package of activities to strengthen community level supply chain performance. The foundational intervention is Standard Resupply Procedures (RSP) which consist of simple tools and procedures designed to ensure that CHWs designed and introduced simple, harmonized tools and procedures to ensure that CHWs always have enough CCM products to serve clients. Learn more about the Standard Resupply Procedures
Only three simple tools are needed for the CHW resupply process: a stock card, the resupply worksheet (RSW) and the "magic resupply calculator" that the CC uses to record monthly stock data for CHWs and determine required quantities to inform the health center pharmacy. The RSPs were designed to provide a simple, predictable way in which CHWs can be resupplied every month so that they know when, how, and where to collect products, using a standard calculation and easy-to-use tools. The intervention aims to:
Document procedures for ordering, reporting, inventory control of CCM health products, and have the procedures be harmonized for the entire country
Train district and health center staff and CCs in the standard procedures and processes and clarify their respective roles in recording, reporting and resupply
Provide CHWs, CCs and HC staff with forms and tools for resupply
Create simple procedures, to avoid over-burdening CHWs, who are volunteers and may have limited time to devote to routine supply chain tasks.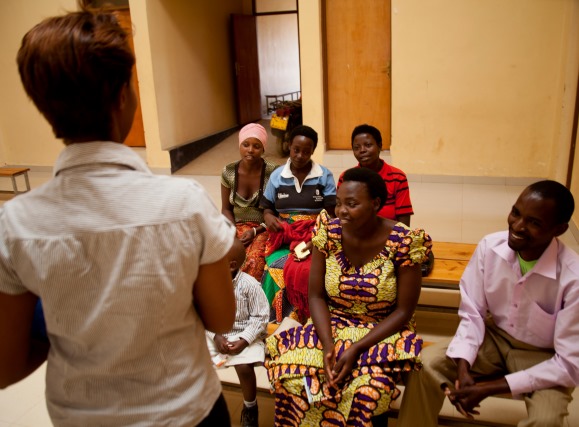 The second intervention, Supply Chain Quality Improvement Collaborative (QCs), establishes and trains Quality Improvement teams (QIT) at health centers to find solutions for operationalizing the RSPs at the community level. Learn more about the Quality Collaboratives
QITs are comprised of HC staff and CCs who oversee CHWs in their cells (generally 7-10 cells per HC).  Individual QITs focus on improving the use of RSPs through a Quality Improvement Process. QIT members use data from CHWs in their cells to identify performance gaps between desired and actual performance in use of the product resupply procedures, set a performance objective and then try to close gaps by testing activities, tracking performance, and maintaining practices that improve performance.
Elements of the QIT process include:
The CCs make home visits to individual CHWS, provide supportive supervision and gather data on selected performance areas.
Individual QITs meet monthly at HCs to review the data the CCs collected and track progress against a pre-determined performance objective using simple tools. The process used by QITs is the data driven Plan-Do-Study-Act (PDSA) cycle.  Teams identify problems and solutions to implementing the RSPs and close performance gaps. Once one objective has been met the teams move on to another performance objective.
District level staff provide coaching and/or supervision support each quarter for QITs and individual team members in the use of the QC tools, methods, and use of RSPs. 
The scale up package also includes incorporating one supply chain indicator (stock card accuracy) into the cPBF scheme for all CCM products.
Two separate interventions (QCs and IcSCI along with RSP in all districts) were originally piloted in three districts each over a one year period and the scale-up package was agreed upon following a midline assessment and data validation workshop with stakeholders at all levels of the health system.
The third intervention that was piloted was the Incentives for Community Supply Chain Improvement (IcSCI). This intervention built on the current community performance-based finance (PBF) system in Rwanda as a way to motivate volunteer CHWs, and provide an incentive package that specifically rewards regular attention to and proper performance of routine SC tasks. Learn more about the Incentives for Community Supply Chain Improvement
IcSCI builds on and aims to strengthen the commodity supply chain portion of the existing community based performance-based financing (PBF) scheme for CHWs that is in place in Rwanda as a means of improving delivery of health services at the village level. Through the existing PBF system, robust national structures are in place to implement, validate, monitor and evaluate existing schemes, and CHWs are organized into self-managed cooperatives. The incentive system works by determining a key set of health indicators for cooperative members/CHWs to achieve; after submitting results every quarter, cooperatives receive incentive payments from health centers related to their achievement levels.
A list of nine indicators was developed for the three priority supply chain areas: meeting attendance, reporting, and good inventory control procedures and CCs collected data on these from the CHWs in their cells quarterly for scoring. The indicators were weighted to reflect the level of priority of behavior necessary for improved performance of supply chain tasks. One of the nine indicators was selected to be included in the scale-up package.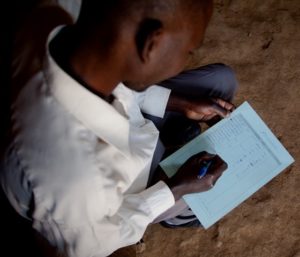 These interventions were designed following a 2010 baseline assessment that identified shortcomings in the community-level supply chain.
To address these gaps in the resupply process identified in the baseline assessment, the project developed a Rwanda-specific Theory of Change aimed at measuring the impact on availability of health products and serving as a foundation for developing the Intervention Strategy for Improving the Community Health Supply Chain.