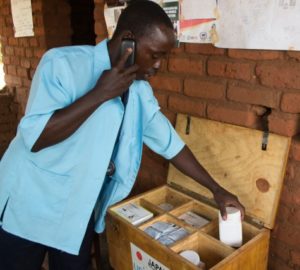 CCM in Malawi Learn More
CCM is provided by Health Surveillance Assistants (HSAs) who are a paid cadre of community health workers introduced in the 1960s for smallpox vaccination and have since played a critical role in addressing public health emergencies and environmental health activities. Since 2008, over 3,000 HSAs located in hard to reach areas have been trained to provide CCM, in addition to traditional  preventive services. HSAs now can manage up to 19 different commodities in their village clinics for CCM, family planning, and HIV testing. 
The Enhanced Management (EM) Approach aims to promote superior team performance practices and the use of data to inform decisions and improve supply chain performance to increase availability of medicines for community health programs. This approach, first tested by the project, has been adopted by the Malawi MOH and was scaled up with the help of partners to all 29 districts by October 2014. There are two components to this intervention: cStock and DPATs. Learn more about Enhanced Management
Enhanced Management is based on the premise that a synergist team approach for improving product availability will have greater outputs than what individuals could achieve alone. The intervention focuses on:
Promoting and fostering a team goal of increasing community health product availability among MOH staff at all levels of the product supply chain,
Promoting supply chain performance monitoring and recognition of superior performance to enhance effective team performance,
Improving communication and collaboration among team members bound by a common goal, and
Promoting the use of data to guide timely problem solving and decision making at district and lower levels to solve supply chain issues.
Read more about Quality Improvement teams.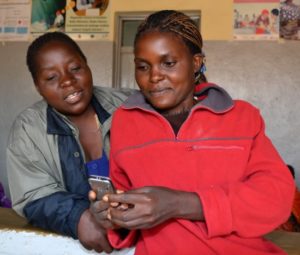 cStock is a simple mHealth reporting and resupply system that improves communication between the HSAs and their resupply points. cStock also provides visibility of real time HSA logistics data at district and central levels of the MOH, such as alerts, stock out rates, and current stock status, enabling supply chain managers to respond in a timely way to issues. Learn more about cStock
cStock uses basic GSM phones already owned by HSAs to report data monthly via SMS on a toll free phone line. The system calculates resupply quantities for each HSA and sends the quantities directly via SMS to the health center to prepack products. Health centers advice HSAs when stock is available for collection. A web-accessible dashboard with simple, easy-to-use reports, shows stock levels, reporting rates, and alerts for central and district level managers. Data is hosted on the Cloud, an inexpensive, reliable, and easy to manage option for a small scale system like cStock as it does not require recruiting/training IT support staff and procuring/maintaining a server.
District Product Availability Teams (DPATS) connect the different levels of the system around a shared goal to achieve superior team performance, continuous improvement and improved product availability. Learn more about DPATs
DPATs are comprised of district management, health center staff, and HSAs who are responsible for ensuring that community health products are available at all times for HSAs to provide services to clients. They seek to develop well performing teams with a common goal and performance plan that includes indicators and targets that can be monitored through cStock. DPATs meet regularly to monitor performance targets, recognize good performance and agree on actions to take to address supply chain challenges. 
Two separate interventions (EM and EPT) were originally piloted in three districts each for a period of 12 to 18 months and the scale-up package of only the EM approach was agreed upon following a midline assessment and data validation workshop with stakeholders at all levels of the health system.
The second intervention that was piloted is the Efficient Product Transport (EPT) intervention. This intervention addressed transportation and data visibility challenges between resupply points and HSAs and aimed at significantly improving product availability at the HSA level with a minimal expenditure of time and effort. There were three components to this intervention: cStock, a continuous review inventory control system and regular bicycle maintenance. Learn more about Efficient Product Transport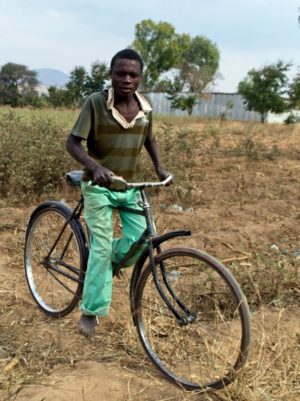 This intervention aimed to minimize travel time for HSAs purely for the purposes of collecting supplies, lessen the volumes that must be transported and enhance the reliability of bicycles. The key components to this intervention, in addition to cStock, were:
A continuous review inventory control system that was flexible and aligned to the routines of the HSAs; allowing HSAs to collect smaller more frequent top-up orders during their scheduled visits to reduce the requirement for the HSA to make a special trip to pick up products.
Regular bicycle maintenance performed by HSAs that reduced the break downs and repairs needed to keep the bicycles functioning, resulting in more consistent and reliable transport. HSAs were trained in the skills and provided with the tools necessary to maintain their bicycles.
Tools developed as part of this intervention included: the Bicycle Maintenance and Repair Guide Booklet, Bicycle Repair Training Guide, and HSA Bicycle Toolkit.
Midline results for the EPT intervention were not as promising so these activities were discontinued and these pilot districts have since been trained in the EM Approach.  
These interventions were designed following a 2010 baseline assessment that identified shortcomings in the community-level supply chain.
To address these bottlenecks identified in the baseline assessment, the project developed a Malawi-specific Theory of Change that served as the foundation for developing the Intervention Strategy for Improving the Community Health Supply Chain.